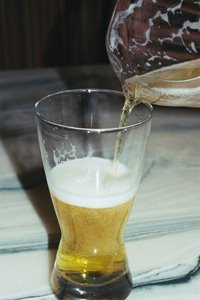 The bars in Albany I've been in are, admittedly, few and far between. Most were in my SUNY ghetto days, when I relied on my older friends to tout me as the Designated Driver so that I could truly experience the Albany Bar scene.
My first bar ever was Sutter's (
Western Ave
). I have yet to actually drink there, but man, talk about a hoppin' joint! College students crowd around the bar, seeking juicy burgers and beers of all kind, testifying to the popularity of the place. I especially love the fact that you can take all the pickles you want- condiments are more of a "do it yourself" thing there. On a weekend it can, at times, be difficult to find a parking space, although Sutter's boasts one of the bigger parking lots I have seen in Albany so far. The music is of the jukebox variety, which I rather like- it's a good mix when you want a relaxed night. I'm also told that this bar has deals for sports events, although since I haven't been down there during Monday Night Football, I'm not going to swear to that. Overall, this was a really nice place- perfect for a first date if you don't want to go all out, but you still want to have good conversations over some good burgers and brew.
A few months after I moved to Albany, I ventured for the first time to Hughes Tavern (
Yates Street
). I got in easily, as there was no bouncer at the door, and I have to say that to date this is by far the grungiest bar in Albany I've been in. Underage friends had no problem getting served, and most of the bar was inhabited by men in their mid forties who made lewd comments to me and the girls in my party. I'm not quite sure how the drinks were priced, but however cheap they may have been or may be, this is one place in Albany I will in the future avoid like the plague.
Since turning 21 though, I have had my fair share of good bars. I find Jillian's (
North Pearl
) to be nice on a weeknight- but that's more out of personal preference than anything else. The bar on the main floor generally has a few regulars and passer-bys who stop in for a drink; service is generally quick. The game floor, which is where I normally go, is often almost bare- one or two people may mill about, leaving you free to enjoy your drink, dinner, and the game of your choice. The food here is alright, but, as it is with alcohol, a bit more pricey than you may want to pay. I would recommend Jillian's for a night out with several friends. There is also a room with billiards on the first floor, as well as a dance floor on the second.
About two weeks ago my mother brought me to Waterworks (
Central Ave
), a gay bar which I found that, while a little crowded, was a great place to just hang out and chat (at least if you are a bi girl- I'm not sure how a straight man would fare, but I'm certain if he chatted with the right people, he'd have just as much fun as I did!). The second floor boasts dance music and a nice floor, where you can easily get down and get your groove on- there is also a bar, and nice-looking shirtless men walking around with $2 test tube shots.
The first floor is more of your normal Albany bar atmosphere, with karaoke and another bar. There are plenty tables to sit at, and the staff down here was exceptionally friendly. I found Waterworks to be pretty fun- any shot straight up or a mixed drink was a bit more than I'd pay for in my local bar, but I would certainly go back again.
The true gem of Albany that I have found so far is probably only for the more adventurous and openminded though. Billy Jack's Bar (
Central Ave, across from Waterworks
) houses some of the best Friday night entertainment I have seen in the area. Every Friday, Miss Carmie Hope, Drag Queen Extraordinare, graces us with her presence at this bar. Now, it's basically your normal karaoke, except Carmie doesn't just host; she actually sings, and beautifully, at that. The drinks are moderately priced but be careful if you are planning on driving later; the bartenders are extremely generous with alcohol in mixed drinks. Billy Jack's can get a little crowded, but with no cover charge, and very good entertainment, I would have to rate this as my best find so far.